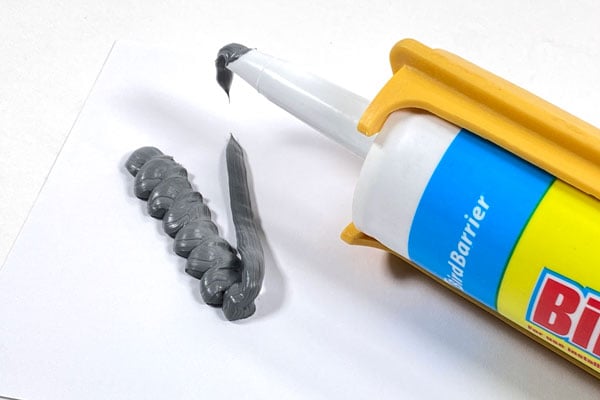 The bird control products you choose are important, but they're only one aspect of effective bird control. Good installation is equally crucial. Cheap installation products or improper surface preparation can mean that your products will only stay in place for a short period of time. Even worse, these heavy, often sharp, objects can come hurtling off high-rise commercial buildings to injure people on the sidewalk below. Correct installation of bird control products requires proper adhesion with the correct products. Since most bird control products depend on glue for installation, it's essential to learn how to choose the right adhesive for commercial bird control applications.
Why Adhesive Type Is Important
As a profitable business, it's important to be able to make choices that help you save money. If you think you could go to your local hardware store and get adhesive for half the price, you're right. However, these seemingly thrifty choices can cost you in the long run. Not all adhesives are created equal. A variety of adhesives exist to serve different purposes. For example, the sealant you use to keep moisture out doesn't have the bonding properties you need to permanently affix long strips of stainless steel spikes to a concrete ledge. Cheaper adhesives designed for other purposes often fail due to these properties:
•

Poor UV resistance

•

Hard glue that becomes brittle and cracks or loses bond in cold weather

•

Sealants or caulks that are used to seal cracks fail to form a bond

•

Not designed for use on surfaces like concrete or metal

•

Not designed for outdoor use

•

Toxic or flammable glues that may take longer to arrive due to shipping regulations

•

Two-part epoxies and some other adhesives that release harmful chemicals into the environment while curing
How to Choose the Right Adhesive for Commercial Bird Control
As you begin to understand the dangers of commercial bird control projects failing and the reasons many adhesives won't stand up to the job, it becomes easier to concentrate on the products you need. Adhesives used for commercial bird control must be able to stand up to all the elements outdoors and be practical to apply. Learning the following information about your adhesive can help you ensure satisfactory results.
Cleanup Recommendations
Sticky glue is great, but will it require you to use special tools, avoid contact with skin, or use a solvent for removal? A glue that can be cleaned with soap and water before drying is the most cost-effective and convenient solution.
Temperature Resistance
Adhesives used outdoors must have the ability to withstand freezing and extremely hot temperatures. This requires the adhesive to be durable and pliable. It is also important to understand their are minimum temperatures allowable when installing with adhesives. For example, Barrier Bond should not be used below 40F (5C).

Full Cure Time
Adhesives that don't dry in certain types of weather or take several days to dry could cause damage before curing time is complete. 24 hours or less is ideal.
Sag & Slump
The firmness of the glue as it leaves the tube will determine how much stays in place. If you apply a bead of glue to a vertical surface, does it run like liquid, sag, slump, and ooze, or stay firmly in place? Ideal glues exhibit little to no sag & slump.
Tack-Free Time
It's essential to place products precisely where they need to be. The period in which the glue is still tacky allows you to make adjustments.
Tensile Strength
The resistance of the material to breaking under pressure is measured in pounds per square inch (PSI). The tensile strength of your adhesive must be strong enough to withstand high wind, driving rain, or any other stresses that may be introduced.
Pliability
Adhesives used in bird control need to remain pliable at all temperatures. This allows the adhesive to move and shift with surfaces as they shrink and expand during temperature changes. Two-part epoxies have very high tensile strength, but since they cure to a hard finish, the bond can crack or release from common outdoor surfaces.
Product Lifespan
How long will the product last? Many bird control products can stay in place year after year. If you use an adhesive that lasts one year, then you'll need to repeat the process multiple times.
Bird Barrier Bond is the most popular adhesive used by our customers. It is an exceptionally strong, flexible polymer-based adhesive for commercial bird control that securely holds metals and plastics to wood, steel, sheet metal, concrete, brick, and most building substrates. It's also gray in color to form an invisible bond on most building surfaces and has excellent UV properties.
A sag & slump rating of nil, tack-free time of 25 minutes, tensile strength of 410 PSI, and 5-year warranty make Bird Barrier Bond effective for practically any outdoor bird control project. The chemical-free adhesive reaches full cure within 24 hours by pulling moisture from the air, and cleanup is completed with soap and water.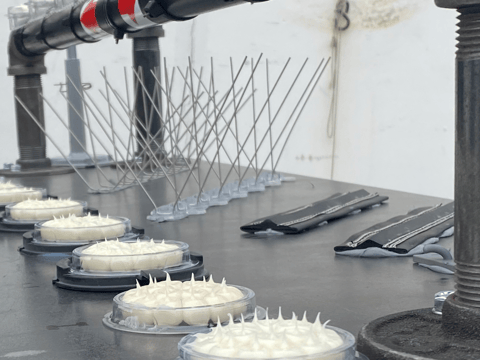 Barrier Bond was recently field tested in hurricane conditions with 150 mph winds
and rain simulation. 100% success rate was reported.
Proper Application of an Adhesive for Commercial Bird Control for Best Results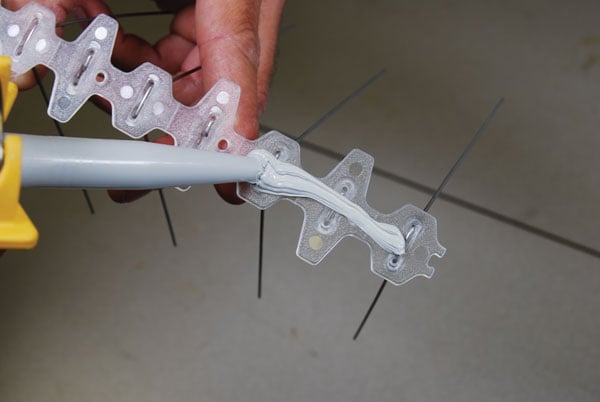 Choosing the right adhesive for commercial bird control helps you ensure you're providing the best installation for your commercial bird control projects. But the way you use these products is important, as well. For any adhesive to work properly, the intended surface must be free from damage and properly prepared. So take these steps to ensure you properly apply the adhesive.
Clean the Surface Thoroughly
Before any bird control installation, the surface should be thoroughly cleaned. Remove bird droppings and debris that attract birds to return. When possible, use a professional bird control cleaning agent and rinse with a pressure washer to remove all types of debris. If any building materials are damaged (like crumbling, rotting, or peeling surfaces) where adhesive will be used, repair is required before adhesive application.
Apply the Right Amount of Adhesive
After the surface has thoroughly dried, then you can apply adhesive. The adhesive should be applied in a solid line along the surface where bird control products will be installed.
A 10.2-ounce tube of Bird Barrier Bond will provide these coverage amounts:
•

BirdSlide: 25 feet

•

Bird-Flight: 35 feet

•

Bird Wire Bases: 125 bases

•

Coil Clips: 275 clips

•

DLL PVC Bases: 35 bases

•

Bird Shock Flex Track: 35 feet
Bird Barrier Super Bond cures in about an hour and provides these coverage amounts:
•

Bird-Flight: 8 feet

•

Bird wire Bases: 40 bases

•

Coil Clips: 60 clips

•

DLL PVC Bases: 10 bases
Allow the Glue to Get Tacky
After applying adhesive, stick the pieces together to adhere glue to each surface. Pull the pieces apart and wait for one to two minutes for the adhesive to get tacky. Align the product in place and affix firmly to the building's surface.
Using the right kind of adhesive for commercial bird control with the proper installation techniques helps you ensure your products will stay in place. In the same way that high-quality products yield better results, superior adhesives work to improve the performance of these products.
Bird Barrier is America's leading manufacturer and supplier of pest bird control products and services. We specialize in urban and natural bird control to effectively remove pest birds humanely and permanently. If you want to learn more about bird control supplies and methods, then get in touch with our team.
About Bird Barrier
Bird Barrier is a leader in innovative technology designed to prevent birds from landing, roosting or nesting. We specialize in urban bird control to remove birds humanely and effectively. Our website, birdbarrier.com, hosts a wealth of content to help people understand and identify bird control solutions for various problems with pest birds. Please contact us if you need help with a bird-related problem. You may also benefit from our free guide, Bird Deterrents: The Complete Guide.